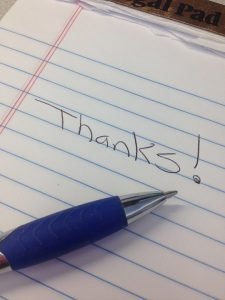 Sometimes we just need to change our perspective and answer one simple question – what are you grateful for?  As business owners we can get into a rut of comparing ourselves to our colleagues, no matter what our profession. It's been said that comparison is the thief of joy.  When we focus on what we are lacking instead of what we are blessed with, our focus needs to be re centered.  Gratitude does not fix any of our problems, but it does bring to light our blessings.
I have been working with a client who has been concerned about a trend he has seen in his office for the last couple years of peaks and valleys from a production/collections standpoint. He has been so concerned that as a business owner, he was starting to lose his passion for dentistry. He shared with me that one question I asked brought his focus back to where it should be. My question was very simple, "what are you grateful for?"
To help him through this process, I asked him to journal at least 3 things he is grateful for each day, and to compile that in a weekly email to me. In the beginning, he was mentioning the surface things in life. By the third week however, he was grateful for deeper meaning things. I began to see a difference in how he was working in his practice.  His team also let me know how much better he looked at work each day.  They joked and said whatever I was doing was taking years off his face, and he was acting like he did 10 years ago.  I can't ask for better results than that.  I really knew things were better when his wife wrote me a long email thanking me for helping him get his "zing" back.  All from recognizing gratitude in his life.
So, at this season of Thanksgiving, for what are your grateful?