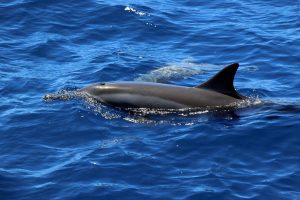 I just returned from a week in Oahu, celebrating my 25th wedding anniversary in paradise. It's such a wonderful place. During our time there, my husband Steve and I went on a catamaran cruise snorkeling adventure. This was my first-time snorkeling, ever.  The beach/ocean is my happy place and I couldn't wait to see Oahu from this vantage point. As we traveled to the reef upon which we were to snorkel, we encountered several pods of spinner dolphins. I love dolphins, and I was so excited to see them around us while we were on board.
As we reached the reef, getting my gear on and into the ocean was easy. What I did not expect was the hesitation I felt as I prepared to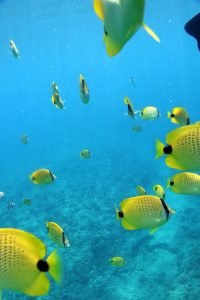 jump in to the middle of the ocean, and away from the beautiful catamaran on which we traveled. I had been looking around seeing all sorts of fish and enjoying myself until I saw some dark crevices in the reef at the bottom. I would be lying to you if I told you I didn't "have a moment". In those crevices, I am sure ocean life could hide – think dorsal fin (not a dolphin).
It took me a moment to adjust, and trust the strangers – those professionals on the catamaran that do this each day for a living. My husband even asked me if I was alright.  I had to play it cool and get a hold of what my issue was – it was trust. Once I trusted the crew member that swam up beside me, I started to
relax. I noticed my breathing evened out and I started to enjoy my time looking around under water. She explained to me the different fish around me and was I taking it all in. Remember, I had never snorkeled before and it was so beautiful.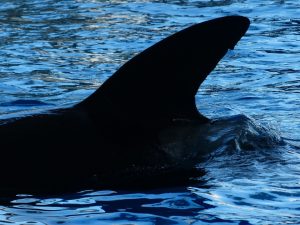 Having these trust issues for a moment made me think of a dental practice, and some clients I have worked with in their office.  At times, you may have the same feeling of uneasiness in your practice. You are busy in your operatories, and you really don't know how your patients are being treated away from you or how the phones are being handled. Is everyone doing what they should be doing? Are the claims being taken care of correctly and the money managed correctly in your office?  These questions can leave you with a panicky feeling just like I had snorkeling the first time in Oahu. I understand that stress and it is real.
I work with many dentists that have shared those stresses and emotions with me regarding their practice. You do not need to continue to feel uneasy regarding your practice-please get in touch with me. I enjoy reducing those stressors for dentists so they can enjoy their practice and running their business.